audio
Leeds United have pulled off a final day Premier League survival act as they won 2-1 away at Brentford.
22 May 2022 7:37pm
Liverpool have ended their Premier League campaign coming up short in the Premier League title race despite their 3-1 win over Wolves.
22 May 2022 7:07pm
Manchester City have defended their Premier League title in the most dramatic of fashions as Pep Guardiola's champions battled back to win 3-2 over Aston Villa.
22 May 2022 6:36pm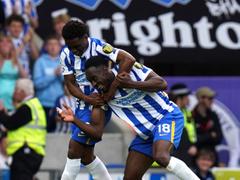 audio
West Ham missed the chance to snatch a dramatic Europa League return after squandering a lead to lose 3-1 to Brighton at the Amex Stadium.
23 May 2022 11:41am
Your news. Anytime. Anywhere.
Get daily news bulletins, transfer gossip and match reports on your Premier League team via your Amazon Alexa or Google Home Smart Speaker. All you have to do is ask.
Learn more