Latest news
audio
Newcastle United are targeting Joe Willock alternatives, with Conor Gallagher catching the eye at St James Park
03 June 2021 4:34pm
audio
West Ham's late show put them on the brink of European qualification as they came from behind to beat West Brom 3-1.
20 May 2021 4:12pm
audio
West Brom will play their final Premier League home game of the season against West Ham on Wednesday in front of supporters before they return to the Championship.
19 May 2021 3:21pm
audio
Goalkeeper Alisson Becker's remarkable stoppage-time winner inspired the Reds to a 2-1 victory at The Hawthorns on Sunday.
17 May 2021 4:53pm
audio
Liverpool's Top Four challenge remains on track this weekend amid ridiculous scenes in a last gasp 2-1 win at relegated West Brom.
16 May 2021 7:04pm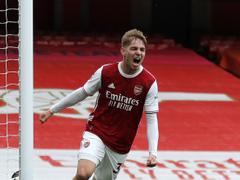 audio
West Brom will be back playing Championship football again next season as their relegation was confirmed with 3-1 defeat at Arsenal.
10 May 2021 1:59pm
audio
Arsenal and West Brom will be fighting to keep their seasons alive on Sunday night as they face off at the Emirates.
08 May 2021 2:22pm
audio
West Brom slipped closer to Premier League relegation despite Mbaye Diagne earning a 1-1 derby draw with Wolves.
04 May 2021 1:15pm
Feature articles
feature
An alternative roundup of the week's headlines
29 January 2021 11:38am