Latest news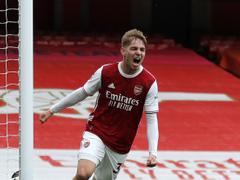 audio
West Brom will be back playing Championship football again next season as their relegation was confirmed with 3-1 defeat at Arsenal.
10 May 2021 1:59pm
audio
Arsenal and West Brom will be fighting to keep their seasons alive on Sunday night as they face off at the Emirates.
08 May 2021 2:22pm
audio
West Brom slipped closer to Premier League relegation despite Mbaye Diagne earning a 1-1 derby draw with Wolves.
04 May 2021 1:15pm
audio
West Brom's Premier League survival hopes will be hanging by a thread on Monday night as they play host to neighbours Wolves.
01 May 2021 2:43pm
audio
Darnell Furlong vowed West Brom will keep fighting despite being pushed to the brink of relegation.
26 April 2021 5:32pm
audio
West Brom have missed the chance to boost their fading Premier League survival hopes as Sam Allardyce's side drew 2-2 at Aston Villa.
26 April 2021 12:42pm
audio
West Brom will be praying for a Premier League derby miracle this weekend as they make the short trip over to Aston Villa.
24 April 2021 1:55pm
audio
Striker Vardy, who had not netted in his previous 11 games, kick-started a 3-0 win to help push the Baggies closer to the drop.
23 April 2021 3:53pm
Feature articles
feature
An alternative roundup of the week's headlines
29 January 2021 11:38am