Latest news
audio
Tottenham end the weekend with the key advantage in the Top Four race after they scrapped out a 1-0 win over struggling Burnley.
15 May 2022 2:49pm
audio
It is a North London derby with more than just the rivalry this time round, as both Tottenham and Arsenal face off in what could be the most important game in their seasons
12 May 2022 12:10pm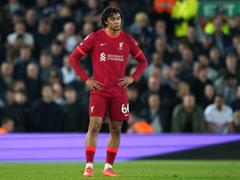 audio
Liverpool's Premier League title bid could be over this season after drawing 1-1 at home to Tottenham.
08 May 2022 2:29pm
audio
Liverpool will look to keep the pressure on their title rivals Manchester City as they host Tottenham at Anfield in the Premier League
05 May 2022 2:06pm
audio
Tottenham have kept up the Champions League pressure on rivals Arsenal in Sunday's Premier League action as they cruised to a 3-1 win over Leicester.
01 May 2022 4:32pm
audio
Tottenham's quest for a Top Four spot continues this weekend as Antonio Conte's side welcome Leicester City to North London.
30 April 2022 12:26pm
audio
Tottenham's Top Four push has been hit by a 0-0 draw away at London rivals Brentford.
23 April 2022 7:48pm
audio
Tottenham will look to shake off their North London rivals for the fourth spot as they take on Brentford in the Premier League on Saturday
22 April 2022 4:28pm
Feature articles
feature
West Ham have finally made their first transfer of the summer, in what will be a busy final four days of transfers
02 October 2020 4:05pm
feature
18 September 2020 4:34pm