Latest news
audio
Liverpool ensured the Premier League title race will go to the final day of the season by coming from behind to beat Southampton 2-1 at St Mary's.
18 May 2022 2:59pm
audio
With two trophies now secured, Liverpool continue the pursuit of a third as they travel south to face Southampton.
17 May 2022 12:12pm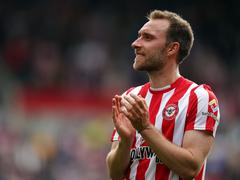 audio
Brentford have moved the edge of Premier League survival this weekend thanks to an impressive 3-0 win at home to Southampton.
08 May 2022 12:46pm
audio
Brentford play host to Southampton in Premier League this weekend with both sides already looking safely over the line this season.
05 May 2022 6:44pm
audio
Crystal Palace look set to avoid any last-minute relegation nerves in the coming week as they battled back to win 2-1 away at Southampton.
30 April 2022 5:39pm
audio
It's ended all square on the South Coast in Sunday's Premier League action as a James Ward-Prowe inspired Southampton battled back to draw 2-2 at Brighton.
24 April 2022 6:26pm
audio
Brighton will be aiming to rubber stamp Premier League survival this weekend as they play host to local rivals Southampton.
23 April 2022 2:14pm
audio
It will be the first time in just under 10 years that Burnley will be without Sean Dyce at Turf Moor, as they play Southampton in the Premier League on Thursday
21 April 2022 1:07pm
Feature articles
feature
Transfer announcements are part of football these days, but they don't always hit the mark, and some backfire massively.
10 September 2020 3:19pm
feature
FA Cup Replays have been scrapped for next season to reduce congestion, but they've been the source of some classics
13 August 2020 3:48pm