Latest news
audio
Wolves midfielder Morgan Gibbs-White has joined Sheffield United on loan for the remainder of the season.
01 September 2021 4:16pm
audio
Sheffield United have signed Liverpool defender Ben Davies on loan for the rest of the season.
17 August 2021 4:22pm
audio
Joe Willock was urged to make his stay at Newcastle permanent after he scored in a sixth successive Premier League game to hand the Magpies victory over Sheffield United.
20 May 2021 4:21pm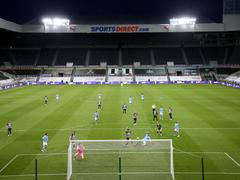 audio
St James' Park welcomes back fans as Newcastle host Sheffield United on Wednesday
19 May 2021 1:15pm
audio
Everton's Europa League chances this season may have hit a dead end this weekend as Carlo Ancelotti's side lost 1-0 to rock bottom Sheffield United.
17 May 2021 12:01am
audio
Everton will be looking to keep their European hopes burning this weekend as they host Sheffield United on Sunday night.
15 May 2021 6:43pm
audio
A 24-year-old man has been arrested following the circulation of a video on social media purporting to show footballer Oli McBurnie in an altercation with a man in the street.
11 May 2021 1:45pm
audio
Crystal Palace will be playing Premier League football again next season as they cruised to a 2-0 win over already relegated Sheffield United.
08 May 2021 5:54pm
Feature articles
feature
An alternative roundup of the week's headlines
29 January 2021 11:38am
feature
The Premier League is finally back after a 100 day absence, and there were lessons to be learnt from Wednesday's action.
18 June 2020 3:22pm