Latest news
audio
Aston Villa's Europa League hopes have been ended as Dean Smith's side caved in to lose 3-2 away at Crystal Palace.
16 May 2021 3:12pm
audio
West Ham's Champions League hopes have taken another bash this weekend as the Hammers slipped to a late 1-1 draw at Brighton.
15 May 2021 11:35pm
audio
Leicester City have clinched their first ever FA Cup title as Brendan Rodgers' side sealed a dramatic 1-0 win over Chelsea at Wembley.
15 May 2021 8:28pm
audio
Southampton have shown their desire to end the season on a high as they picked up a 3-1 win at home to relegated Fulham.
15 May 2021 7:47pm
audio
Leeds United have kept alive their chance of a late season European push as Marcelo Bielsa's side cruised to a 4-0 win at Burnley.
15 May 2021 4:44pm
audio
Manchester City showed off their new Premier League crown in Friday night as Pep Guardiola's side squeezed out a bonkers 4-3 win at Newcastle.
15 May 2021 3:08pm
audio
Spurs' push for a Europa League place continues as they welcome mid-table Wolves on Sunday
14 May 2021 4:14pm
audio
Two teams focusing on next season collide at St Mary's, as Southampton take on Fulham
14 May 2021 4:11pm
audio
Jurgen Klopp tasted victory at Old Trafford for the first time as Liverpool breathed new life into their top-four push with a thrilling 4-2 win in the rearranged fixture against Manchester United.
14 May 2021 3:03pm
audio
Everton's European hopes suffered a blow after a limp 0-0 draw at Aston Villa.
14 May 2021 2:54pm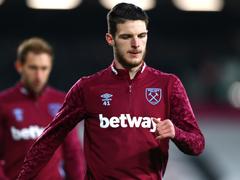 audio
West Ham United travel to Brighton in the Premier League on Saturday looking for a crucial 3 points as they continue their pursuit of Champions League football next season.
14 May 2021 2:34pm
audio
Leeds can keep up their top half hopes if they beat Burnley in Saturday's early kick-off
14 May 2021 11:09am