Latest news
audio
Wolves' push for European qualification has ended this weekend as they drew 1-1 with rock bottom Norwich.
15 May 2022 5:55pm
audio
Wolves will close out their home games in this season's Premier League when already-relegated Norwich City visit Molineux on Sunday.
13 May 2022 2:52pm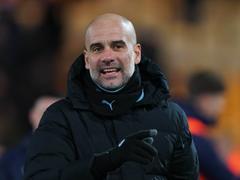 audio
Wolves are aiming to upset the Premier League title race in midweek action as they welcome Manchester City to Molineux.
10 May 2022 3:52pm
audio
Chelsea just cannot seem to get the Top Four job done in recent weeks and they end this weekend with a 2-2 draw at home to Wolves.
08 May 2022 1:03pm
audio
Chelsea will be looking to take a step closer to a Top Four finish this weekend as they welcome Wolves to West London.
05 May 2022 7:00pm
audio
Brighton are refusing to allow their campaign to fizzle out this month as the secured an impressive 3-0 win away at Wolves.
30 April 2022 6:36pm
audio
Burnley have edged themselves out of the Premier League drop zone this weekend as the Clarets sealed dogged 1-0 win at home to Wolves.
24 April 2022 5:28pm
audio
Burnley will look to keep the momentum going as they push for Premier League survival, where they host Wolves at Turf Moor on Sunday
22 April 2022 4:19pm
Feature articles
feature
Could the success of Bruno Fernandes and Wolves be a catalyst for more Portuguese power heading to the Premier League?
04 June 2020 10:51am