Latest news
audio
Tottenham keeper Joe Hart looks set to be offered a route out of the club with Scottish giants Celtic tracking the England man.
30 July 2021 4:52pm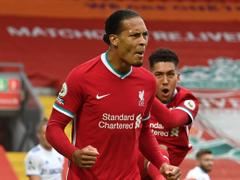 audio
Liverpool fans were treated to the welcome sight of Virgil van Dijk and Joe Gomez back in action last night.
30 July 2021 4:46pm
audio
Former Arsenal boss Arsene Wenger could find himself back in a managerial hot seat in the coming weeks with the Frenchman linked to the vacant Switzerland job.
30 July 2021 4:42pm
audio
West Ham's search for a new defender could see them make the short trip across the capital to sign Chelsea's Kurt Zouma.
30 July 2021 4:37pm
audio
Manchester City have formally kicked off Jack Grealish transfer talks with Aston Villa in the last 24 hours.
30 July 2021 4:33pm
audio
Championship new boys Blackpool have secured the services of Arsenal forward Tyreece John-Jules on a season-long loan.
29 July 2021 2:36pm
audio
Nottingham Forest have cancelled their final pre-season friendly against Burnley this weekend due to a small number of positive Covid-19 tests.
29 July 2021 2:30pm
audio
Ole Gunnar Solskjaer says Manchester United will make a decision with Marcus Rashford on whether he undergoes shoulder surgery in the coming days.
29 July 2021 2:19pm
audio
Everton captain Seamus Coleman plans to "keep going as long as possible" after signing a one-year contract extension.
29 July 2021 12:01pm
audio
A Liverpool fan who suffered life-changing injuries in the Hillsborough disaster has died.
29 July 2021 11:55am
audio
Crystal Palace have announced the signing of defender Joachim Andersen from Lyon for an undisclosed fee.
29 July 2021 11:43am
audio
Chelsea have signed goalkeeper Marcus Bettinelli on a free transfer.
29 July 2021 11:37am