Latest news
audio
Newcastle are targeting defensive reinforcements despite a limited transfer budget this summer
17 June 2021 4:50pm
audio
Swansea City's Matt Grimes is interesting Newcastle United this summer, according to reports
09 June 2021 4:27pm
audio
Newcastle United are targeting Joe Willock alternatives, with Conor Gallagher catching the eye at St James Park
03 June 2021 4:34pm
audio
Joe Willock was urged to make his stay at Newcastle permanent after he scored in a sixth successive Premier League game to hand the Magpies victory over Sheffield United.
20 May 2021 4:21pm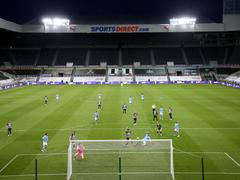 audio
St James' Park welcomes back fans as Newcastle host Sheffield United on Wednesday
19 May 2021 1:15pm
audio
Manchester City showed off their new Premier League crown in Friday night as Pep Guardiola's side squeezed out a bonkers 4-3 win at Newcastle.
15 May 2021 3:08pm
audio
New Premier League champions Man City take on already-safe Newcastle at St James' Park on Friday night
14 May 2021 11:04am
audio
Steve Bruce is hoping he gets the chance to take Newcastle to the next level after winning a gruelling battle for Premier League safety.
13 May 2021 1:03pm
Feature articles
feature
It's been a busy week in the transfer window, and it might not be over yet.
11 September 2020 1:42pm