Latest news
audio
Manchester United striker Edinson Cavani is in line to return at Crystal Palace as Ole Gunnar Solskjaer's men head back to London just days after the contentious draw with Chelsea.
02 March 2021
audio
Dylan Levitt is confident that taking the road less travelled can help him achieve his European Championship dreams after the Wales international surprisingly swapped Manchester United for a relegation fight in Croatia.
23 February 2021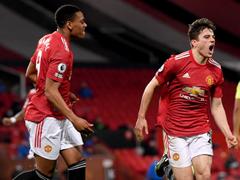 audio
Manchester United will end the weekend back in second place in the Premier League as they fought back to seal a 3-1 win over Newcastle.
21 February 2021
audio
Manchester United will be confident of keeping their Top Four hopes on track at they host struggling Newcastle this weekend.
20 February 2021
audio
Teenage talent Mason Greenwood has signed a new and improved deal keeping him at Manchester United until at least 2025.
16 February 2021
audio
Manchester United striker Anthony Martial was subjected to further racist abuse following Sunday's 1-1 draw at West Brom.
15 February 2021
audio
West Brom have boosted their chances of Premier League survival as Sam Allardyce's side picked up a shock 1-1 draw with Manchester United.
14 February 2021
audio
West Bromwich Albion face a huge challenge in their fight for Premier League survival when they welcome Manchester United to The Hawthorns on Sunday.
11 February 2021
Feature articles
feature
An alternative roundup of the week's headlines
29 January 2021
feature
25 September 2020