Latest news
audio
Manchester City's Premier League title push has suffered a major wobble this weekend as they drew 2-2 away at West Ham.
15 May 2022 6:30pm
audio
Manchester City are potentially a win away from retaining the Premier League title, though standing in their way is West Ham as the Champions travel to the capital on Sunday
13 May 2022 1:07pm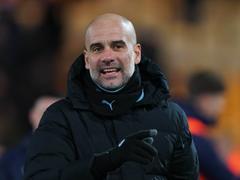 audio
Wolves are aiming to upset the Premier League title race in midweek action as they welcome Manchester City to Molineux.
10 May 2022 3:52pm
audio
Defending Premier League champions Manchester City have taken full advantage of Liverpool's title slip this weekend as they cruised to a 5-0 win over Newcastle.
08 May 2022 10:31pm
audio
Manchester City find themselves facing another crunch European showdown as they head to Real Madrid tonight.
04 May 2022 3:41pm
audio
Manchester City have responded to Liverpool's Premier League title pressure in emphatic style this weekend as they cruised to a 4-0 win away at Leeds.
01 May 2022 1:55pm
audio
Manchester City will be looking to maintain their position at the top of the Premier League as they travel north to face Leeds United in the Premier League on Saturday
29 April 2022 2:27pm
audio
Manchester City face crunch time in the Champions League tonight as they welcome in La Liga giants Real Madrid to Manchester.
26 April 2022 3:28pm
Feature articles
feature
We look at the 8 greatest African players to grace the Premier League - with some surprising selections.
29 March 2022 12:53pm
feature
We break down Man City's defensive mistakes, leading to Messi's wonder goal in the Champions League
29 September 2021 3:49pm