Latest news
audio
A classy strike from Manchester City's Cole Palmer helped inspire England Under-21s to a routine win over Kosovo.
08 September 2021 2:42pm
audio
Manchester City could look to quadruple Phil Foden's wages to secure his long term future at the Etihad Stadium.
05 September 2021 4:13pm
audio
Goalkeeper Ederson has set his sights on ending Manchester City's long wait for a Champions League title after committing his future to the club until 2026.
01 September 2021 3:52pm
audio
No Ronaldo, No Problem for Manchester City as they thump Arsenal 5-0.
28 August 2021 3:22pm
audio
It's the master against the apprentice again as Mikel Arteta's struggling Arsenal take on Pep Guardiola's Manchester City at the Etihad Stadium in the Premier League on Sunday.
26 August 2021 3:46pm
audio
Harry Kane says he is "staying at Tottenham this summer" after accepting he will not be joining Manchester City this season.
25 August 2021 3:05pm
audio
Sculptures of Vincent Kompany and David Silva will be installed outside Manchester City's Etihad stadium ahead of this weekend's Premier League game against Arsenal.
23 August 2021 2:02pm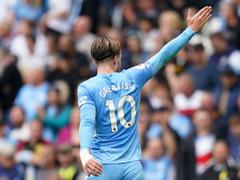 audio
Premier League champions Manchester City have got themselves a first win of the campaign as Pep Guardiola's side cruised to a 5-0 win over Norwich.
21 August 2021 5:36pm
Feature articles
feature
An alternative roundup of the week's headlines
29 January 2021 11:38am
feature
Should a winning mentality be encouraged through youth academies?
01 December 2020 2:08pm