Latest news
audio
Liverpool ensured the Premier League title race will go to the final day of the season by coming from behind to beat Southampton 2-1 at St Mary's.
18 May 2022 2:59pm
audio
With two trophies now secured, Liverpool continue the pursuit of a third as they travel south to face Southampton.
17 May 2022 12:12pm
audio
Liverpool have secured a second major title in 2022 as they edged a penalty shootout win over Chelsea in the FA Cup final.
15 May 2022 1:45pm
audio
Steven Gerrard faces his former side as Liverpool travel to the Midlands to face Aston Villa in the Premier League on Tuesday
09 May 2022 1:35pm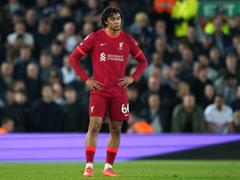 audio
Liverpool's Premier League title bid could be over this season after drawing 1-1 at home to Tottenham.
08 May 2022 2:29pm
audio
Liverpool will look to keep the pressure on their title rivals Manchester City as they host Tottenham at Anfield in the Premier League
05 May 2022 2:06pm
audio
Liverpool's Quadruple push remains on track this season as they sealed a dramatic spot in the Champions League final last night.
04 May 2022 3:13pm
audio
It's over to you Manchester City this weekend as Liverpool leapfrogged them into top spot with a 1-0 win away at Newcastle.
30 April 2022 4:09pm
Feature articles
feature
We look at the 8 greatest African players to grace the Premier League - with some surprising selections.
29 March 2022 12:53pm
feature
18 September 2020 4:34pm