Latest news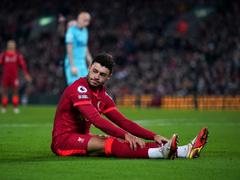 audio
Liverpool midfielder Alex Oxlade-Chamberlain will miss Thursday's Carabao Cup semi-final second leg against Arsenal.
19 January 2022 3:43pm
audio
Liverpool have responded to keep up their slim Premier League title chances this weekend as they picked up a routine 3-0 win at home to Brentford.
16 January 2022 4:30pm
audio
Liverpool welcome Brentford to Anfield on Sunday, hoping to overcome the loss of three key players and close the gap to Manchester City
14 January 2022 2:54pm
audio
Liverpool survived an early scare in their FA Cup Third Round clash with Shrewsbury as Jurgen Klopp's side eventually eased on to a 4-1 win.
09 January 2022 4:48pm
audio
Liverpool's Carabao Cup semi-final first leg tie against Arsenal has been postponed due to rising Covid cases within Jurgen Klopp's squad.
06 January 2022 12:05pm
audio
Chelsea and Liverpool have both missed the chance to put pressure on Premier League leaders Manchester City as the arch rivals battled out a brilliant 2-2 draw at Stamford Bridge.
02 January 2022 11:54pm
audio
Liverpool's Premier League title push suffered a major blow in their final outing of 2021 as Jurgen Klopp's side slipped to a 1-0 defeat at Leicester.
28 December 2021 11:58pm
audio
Liverpool's Boxing Day clash with Leeds United has become the first festive Premier League clash to be postponed due to Covid-19.
23 December 2021 2:34pm
Feature articles
feature
We look at the 8 greatest African players to grace the Premier League - with some surprising selections.
18 January 2022 12:30pm
feature
18 September 2020 4:34pm