Latest news
audio
James Justin and Fikayo Tomori will miss England's Nations League clash with Germany.
07 June 2022 1:45pm
audio
Leicester City's summer overhaul could include major changes at the King Power according to Brendan Rodgers.
27 May 2022 1:25pm
audio
Chelsea need just one point to secure third place, as they host Leicester City at Stamford Bridge in the Premier League on Thursday
19 May 2022 1:25pm
audio
Leicester City have stepped up their efforts for a strong end to the Premier League campaign as they cruised to a 5-1 win at relegated Watford.
15 May 2022 5:27pm
audio
Watford's final Premier League home game for the foreseeable future sees them welcome mid-table Leicester City to Vicarage Road on Sunday.
13 May 2022 2:48pm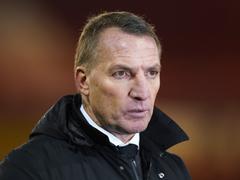 audio
Leicester City find themselves in a battle for no man's land in midweek action as already relegated Norwich head to the King Power.
10 May 2022 3:25pm
audio
Everton seized the initiative in the Premier League relegation battle as Frank Lampard's side sealed a 2-1 win away at Leicester.
08 May 2022 4:47pm
audio
Tottenham have kept up the Champions League pressure on rivals Arsenal in Sunday's Premier League action as they cruised to a 3-1 win over Leicester.
01 May 2022 4:32pm