Latest news
audio
Everton blew a chance to secure their Premier League status as Brentford twice came from behind to earn a 3-2 win against nine men at Goodison Park.
16 May 2022 11:27am
audio
Everton will be pushing for another step towards Premier League survival this weekend as they welcome Brentford to Merseyside.
14 May 2022 2:30pm
audio
Everton's quest for Premier League safety continues in midweek action as they head to already relegated Watford tomorrow.
10 May 2022 2:24pm
audio
Everton seized the initiative in the Premier League relegation battle as Frank Lampard's side sealed a 2-1 win away at Leicester.
08 May 2022 4:47pm
audio
Everton have kept their heads above water in the Premier League relegation battle thanks to a scrappy 1-0 win over Chelsea.
01 May 2022 5:34pm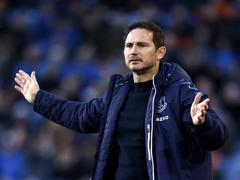 audio
Everton desperately need a win in their relegation fight as Chelsea arrive on Merseyside
29 April 2022 1:06pm
audio
Everton have contacted the Professional Game Match Officials Board with concerns over some of the refereeing in their 2-0 derby defeat to Liverpool at Anfield.
25 April 2022 2:41pm
audio
Liverpool have responded to Manchester City's Premier League title message in dogged fashion this weekend as the Reds dug out a 2-0 win at home to neighbours Everton.
24 April 2022 11:01pm
Feature articles
feature
Former Everton player Trevor Steven speaks with the Football Social Daily podcast on Gary Lineker's time at Everton.
04 February 2022 1:59pm
feature
The former Wales international says that Jordan Pickford's form for his country should keep him as England #1.
29 March 2021 1:46pm