Latest news
audio
Everton captain Seamus Coleman plans to "keep going as long as possible" after signing a one-year contract extension.
29 July 2021 12:01pm
audio
Work has finally begun on Everton's new ground at Bramley-Moore Dock with the club reiterating its commitment to preserving the city's history.
28 July 2021 4:08pm
audio
Demarai Gray has vowed to help Everton compete with the Premier League's big boys after completing his move to Goodison Park.
22 July 2021 1:24pm
audio
Rafa Benitez has added some experience to his side with two new faces ahead of their pre-season campaign
21 July 2021 4:25pm
audio
New Everton manager Rafael Benitez claims he has felt strong support from fans living close to him following his appointment at Goodison Park.
14 July 2021 4:41pm
audio
New manager Rafael Benitez has pledged to show the same fighting spirit for Everton as he did for Liverpool when he made his "small club" comments.
01 July 2021 2:47pm
audio
Duncan Ferguson's teenage son Cameron has followed in his father's footsteps by signing for Newcastle.
01 July 2021 2:39pm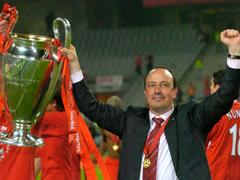 audio
Everton have confirmed the controversial appointment of former Liverpool manager Rafael Benitez as Carlo Ancelotti's replacement.
30 June 2021 4:33pm
Feature articles
feature
The former Wales international says that Jordan Pickford's form for his country should keep him as England #1.
29 March 2021 1:46pm
feature
25 September 2020 3:35pm