Latest news
audio
Brentford have finally edged back to winning ways in the Premier League as the Bees won 1-0 at home to Everton.
28 November 2021 4:35pm
audio
Out of form pair Brentford and Everton do battle this weekend with both sides winless in their last five Premier League outings.
27 November 2021 4:29pm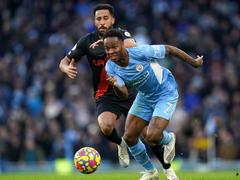 audio
Manchester City have kept up the title pressure on Chelsea and Liverpool this weekend as defending champions swept to a 3-0 win over Everton.
21 November 2021 4:18pm
audio
Manchester City will look to keep the pressure on Chelsea at the top of the Premier League when they welcome an ailing Everton to the Etihad Stadium on Sunday.
19 November 2021 1:19pm
audio
Antonio Conte has kicked off his Premier League return in the least inspiring way possible as Spurs limped to a 0-0 draw at Everton.
07 November 2021 5:30pm
audio
Antonio Conte takes charge of his first Premier League game with his new club Tottenham as they take on Everton at Goodison Park on Sunday.
05 November 2021 4:17pm
audio
Wolves will be looking to maintain their positive recent on Monday night as Bruno Lage's side welcome Everton to Molineux.
29 October 2021 7:55pm
audio
Claudio Ranieri has reminded the Premier League of exactly what he can do as his Watford side grabbed a shock 5-2 win at Everton.
23 October 2021 6:18pm
Feature articles
feature
The former Wales international says that Jordan Pickford's form for his country should keep him as England #1.
29 March 2021 1:46pm
feature
25 September 2020 3:35pm