Latest news
audio
Manchester City's Oleksandr Zinchenko has issued a statement to supporters on his Instagram page following his wife's criticism of City boss Pep Guardiola.
24 August 2020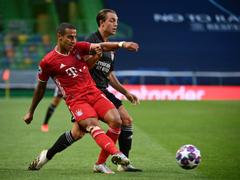 audio
Anfield could welcome another Champions League winner
20 August 2020
audio
Can Wolves hold on to their Mexican star
20 August 2020
audio
The Argentine is still in rehabilitation following surgery and David Silva has a new shade of blue
12 August 2020
audio
Raheem Sterling insists Manchester City are "hungry" for Champions League success and have the "energy and fight" needed to progress in the competition.
10 August 2020
audio
Manchester City's Champions League second leg tie with Real Madrid has been thrown in to serious doubt after a Real Madrid player tested positive for Covid-19.
28 July 2020
Match reports
Match previews
Manchester City - All Teams
Manchester City will be wary of their favourites tag ahead of their Champions League quarter final with French side Lyon.
14 August 2020