Latest news
audio
Everton blew a chance to secure their Premier League status as Brentford twice came from behind to earn a 3-2 win against nine men at Goodison Park.
16 May 2022 11:27am
audio
Everton will be pushing for another step towards Premier League survival this weekend as they welcome Brentford to Merseyside.
14 May 2022 2:30pm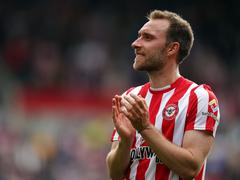 audio
Brentford have moved the edge of Premier League survival this weekend thanks to an impressive 3-0 win at home to Southampton.
08 May 2022 12:46pm
audio
Brentford play host to Southampton in Premier League this weekend with both sides already looking safely over the line this season.
05 May 2022 6:44pm
audio
Old Trafford bid farewell to what could be several players following their 3-0 home victory against Brentford
03 May 2022 1:14pm
audio
Manchester United's outside push for a Champions League spot continues on Monday night as they welcome Brentford to Old Trafford.
30 April 2022 11:01am
audio
Tottenham's Top Four push has been hit by a 0-0 draw away at London rivals Brentford.
23 April 2022 7:48pm
audio
Tottenham will look to shake off their North London rivals for the fourth spot as they take on Brentford in the Premier League on Saturday
22 April 2022 4:28pm