Latest news
audio
Former England international Ashley Young has rejoined Aston Villa on a free transfer from Inter Milan.
18 June 2021 4:23pm
audio
Jack Grealish trained away from the main group on Tuesday as England stepped up preparations for Friday's Euro 2020 game against Scotland.
15 June 2021 3:41pm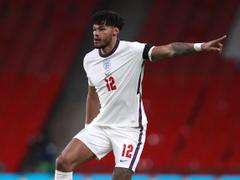 audio
Tyrone Mings praised his defensive colleagues for helping him through his tournament debut in England's Euro 2020 win over Croatia.
14 June 2021 4:37pm
audio
Jack Grealish is aiming to steer England to Euro 2020 glory as he insists the nerves will not strike on the big stage like they did on his driving test.
11 June 2021 4:01pm
audio
Aston Villa have announced they have agreed a deal with Norwich for midfielder Emiliano Buendia.
08 June 2021 7:24pm
audio
Aston Villa have announced the departures of Ahmed Elmohamady, Neil Taylor and goalkeeper Tom Heaton.
28 May 2021 4:11pm
audio
Tottenham provided further evidence why Harry Kane might think he needs to leave to be successful after an abject display in a 2-1 loss to Aston Villa which severely hurts their Europa League chances.
20 May 2021 4:16pm
audio
Harry Kane will start for what might be the last time in front of Spurs fans as Aston Villa provide the opposition on Wednesday.
19 May 2021 1:24pm
Feature articles
feature
The Premier League is finally back after a 100 day absence, and there were lessons to be learnt from Wednesday's action.
18 June 2020 3:22pm