Latest news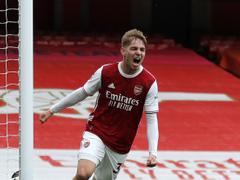 audio
West Brom will be back playing Championship football again next season as their relegation was confirmed with 3-1 defeat at Arsenal.
10 May 2021 1:59pm
audio
Arsenal and West Brom will be fighting to keep their seasons alive on Sunday night as they face off at the Emirates.
08 May 2021 2:22pm
audio
Kieran Tierney could make his return from a knee injury for the second leg of Arsenal's Europa League semi-final clash with Villarreal.
05 May 2021 6:05pm
audio
Arsenal have kept alive their Europa League chances this season as Mikel Arteta's side picked up a 2-0 win away at Newcastle.
02 May 2021 4:53pm
audio
Newcastle look to extend their four-game unbeaten run when Arsenal visit St James' Park on Sunday
30 April 2021 4:03pm
audio
The future of Arsenal Football Club could be altered in the coming weeks if a takeover bid fronted by Spotify founder Daniel Ek is successful.
27 April 2021 4:14pm
audio
Shearer is the league's all-time top scorer having netted 260 goals for Blackburn and Newcastle between 1992 and 2006, while he lifted the title with Rovers in 1995.
26 April 2021 5:24pm
audio
Everton have boosted their chances of Europa League spot as they picked 1-0 Friday night win at Arsenal.
24 April 2021 1:03pm