The summer transfer window is open, and Manchester City seem to be moving quickly to strengthen their squad
Manchester City's summer spending seems to be underway, as Spanish winger Ferran Torres closes in on a move from La Liga side Valencia.
Pep Guardiola was in the market for a replacement for Leroy Sane, and seems to have moved quickly to secure the signing of 20-year-old Torres, who will come at a cost of just €27M with add-ons.
But who is the new man? Considering City have signed both David Silva and Nicolas Otamendi from Valencia, fans will be hoping his time in Manchester is more similar to the former than the latter.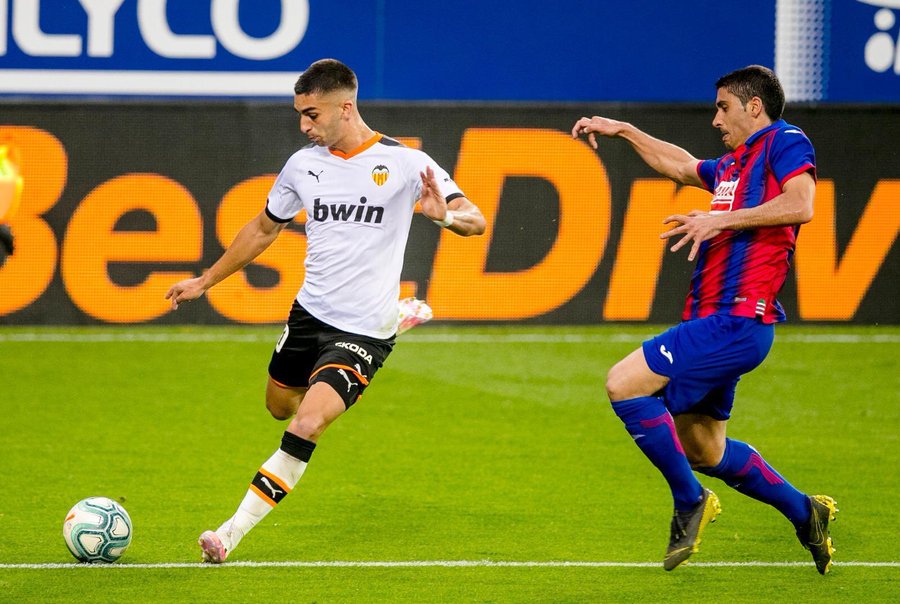 What's His Playing Style?
He's a typical right midfielder, with extremely quick feet, pace to burn, and superb close control making him a nightmare to play against. His dribbling style is similar to that of Raheem Sterling, as he scampers across the pitch and isn't afraid of taking on multiple opponents to get his team up the field.
He's more of a right midfielder than a right winger, as Valencia usually adopt a flat 4-4-2 formation, similar to the one Atletico Madrid usually play, with two centre forwards relying on crosses from the wide players. As a result, he doesn't mind covering plenty of ground up and down the wing, helping out his right-back when his side don't have possession.
You would assume he won't have to worry about that too much at Man City, given their dominance in possession, but it's not a bad trait to have. He does have experience as part of a front three though, with Spain's underage groups utilising that system regularly.
His crossing is a major strength as well, as he likes to get his head up and pick out teammates in the box, rather than slam a low cross into the mix and see what happens.
Will He Go Straight Into The First Team?
Maybe not straight away, but you'd expect him to get plenty of minutes as City compete on four fronts once again in 2020/21.
As mentioned earlier, he'll have to do some adapting to City's style of play, like any player would, and get comfortable in a front three rather than a 4-4-2/4-2-3-1 system.
With Guardiola possibly moving Bernardo Silva into the midfield of his 4-3-3 formation next season to replace David Silva, it leaves Ferran Torres as one of the wing options alongside Sterling, Riyad Mahrez and Phil Foden.
Where Has He Come From?
Ferran Torres has been at Valencia since the age of six, working his way through their youth teams before getting his chance in the first team.
After making his debut in 2017, 18 months after Gary Neville's torrid spell in charge, Torres has been a squad regular ever since.
He was the first player born in 2000 to play in La Liga, and followed that record up by becoming the first player born in the new millennium to score in the Champions League when he netted against Lille this season.
He's never been out on loan and played just 12 times for Valencia's B team, as they fast-tracked him to the senior ranks just about as soon as they could.
Maybe this is something to keep an eye on, as once he leaves for Man City as a 20-year-old, it'll be the first time he's ever left his home city to play football. Homesickness could be an issue, but City's large Spanish speaking contingent should help acclimatise him to England, even if the weather will be slightly different.
He's only four years younger than Rodri, who played for Valencia's arch-rivals Villarreal, and knows Eric Garcia from Spain's under-19 and under-21 sides. Senior Spanish speaking pro's like Sergio Aguero, Nicolas Otamendi and Claudio Bravo should provide a handy welcoming party.
Are Man City Getting A Bargain Or Overpaying?
If the fee of €27m is true, then certainly City are getting themselves a bargain. When you think about Leroy Sane leaving for around €50m, they've essentially bought Ferran Torres using half of that money, and have reportedly used the rest (plus a little more) to have a £41m bid for Nathan Ake accepted by Bournemouth.
You might be wondering why Valencia would let one of their best young talents leave the club, but the truth is relatively straightforward.
Since Neville left in 2016, they've had four head coaches, with varying levels of success. The best of the lot was Marcelino, who they won a Copa Del Rey under, but this season they sacked Albert Celades, and will go into the new season under former Watford manager Javi Gracia.
There is rumoured to be a clearout of first-team players from 'Los Murcelagos', with Dani Parejo, Carles Soler, Rodrigo and Jose Gaya all linked with moves away, but Torres looks likely to be the first one to be snatched, hence the cut price fee.
According to transfermarkt, his value should be around €45m, so City paying around half of that represents smart business from Txiki Begiristain and co.
If you want some video footage to whet your appetite even more, check out this ten-minute compilation: